About Our Orthodontic Practice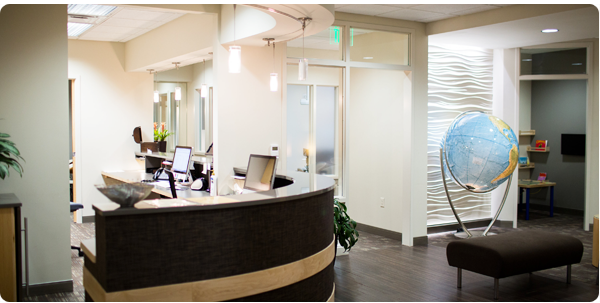 Our treatment goals for each patient are
A healthy, functional bite relationship
Dental health improvement
A beautiful smile
Benefits that are retained a minimum of 25 years
Inclusion of Parents
Communication and teamwork between patient and parents, and doctor and staff is essential for orthodontic treatment success. For this reason, rather than the traditional practice of asking parents to wait in the reception room, we encourage parents to routinely come into the clinic with their son or daughter. Parents are an important part of the team.
Dental Hygiene
Dental hygiene is of special importance in orthodontics. Though braces can do great things for people, they can also be great plaque (bacteria) collectors. At Genesis Orthodontics, our clinical team follows a highly structured oral hygiene protocol. We also have a full-time registered dental hygienist on our staff. Her name is Kathy Dunbar, and she is instrumental in helping us fulfill our commitment to oral hygiene.
Retention
The weak link in orthodontics is not the process of reaching that wonderful day when the braces come off. Rather, it is the failure to retain the benefits over extended time. There are many ways for traditional removable retainers to fail, and they fail all too frequently. We provide alternatives that greatly improve success. Adults should not have to repeat orthodontic treatment that was accomplished in the teen years.
As a benchmark of success, our goal is to retain all treatment benefits twenty-five years after treatment is completed.
Achieving the orthodontic treatment goals of ideally aligned teeth, a healthy functional bite relationship, and excellent nose-lip-tooth-chin relationship contributes both to one's physical and emotional well-being. As such, we are committed to retaining these worthwhile treatment goals.
Longevity
From 1977 to 2013, Dr. Glenn practiced orthodontics in the same location. In 2013, Genesis Orthodontics was formed and relocated to a newer building in the same office park. Throughout his career, Dr. Glenn has also taught orthodontics in the Orthodontic Department of the College of Dentistry. Though he is hopeful that the orthodontic residents have received benefit from his presence, Dr. Glenn is confident that patient care at Genesis Orthodontics has been enhanced from his long-standing association with the College of Dentistry.
We at Genesis Orthodontics are well equipped and very capable of providing excellent orthodontic care, and we will treat you like we would want to be treated if we were you.